Art Deco Kitchen Design – Everything You Need To Know
Have you ever visited a vintage posh hotel downtown and wondered at its gold seashell wallpaper, colourful carpeting, and mirrored walls? These are all prime examples of Art Deco as it appeared in its heyday. Could you imagine introducing these elements into your kitchen?

In this post, I'll explain what Art Deco is, how it can be used in kitchen design and whether it's a look that's still in style.

Let's get into it!
You May Also Like:
Biophilic Kitchen Design – Let Nature Into Your Home
What Is Art Deco Kitchen Design
Art Deco came into fashion during the earliest years of the 20th century and first appeared in the architecture and salons of Paris.

While the Victorian and Edwardian eras focused on lush and lavish interiors full of bric-a-brac, lace, and even clutter, Art Deco featured bold shapes and patterns. The most iconic example of the style is the top of the Chrysler Building in New York City.
In today's kitchens, Art Deco is making a return through the use of large geometric flooring and splashback tiles. Cabinetry shapes are echoed in the lighting fixtures and serving ware.

The colours are bold but streamlined. Every piece, knob, windowpane, and utensil will clearly belong to the overall design. You may think it is a style of simplicity, but it is actually a precise vision of multiple elements creating a living piece of art.
Some of the key elements of Art Deco design are:
Bold Colours
Circular and rounded shapes.
Rich and indulgent textures
Simplification of shapes, stylization of patterns.
Geometric shapes.
Order, colour and geometry.
Repetitive patterns.
You May Also Like:
15 Japandi Style Kitchens – Inspiration and Ideas
How To Create An Art Deco Kitchen Design
There is more to creating an Art Deco kitchen than buying the right pot holders and flooring. You will build the design based on five key elements. You will always want to think of this project as a whole-room renovation instead of just switching out cabinets or worktops to freshen up the space.
Geometric Shapes
Think of a single shape that makes you smile. It can be squares, rectangles, triangles, ovals, or hexagons. You will use this shape to select your flooring, cabinetry, dishes, and lighting. It may be a steady trickle of small shapes throughout the space or a large repeated pattern on your wallpaper echoed in the pendant lights.
Bold Colours or Monochrome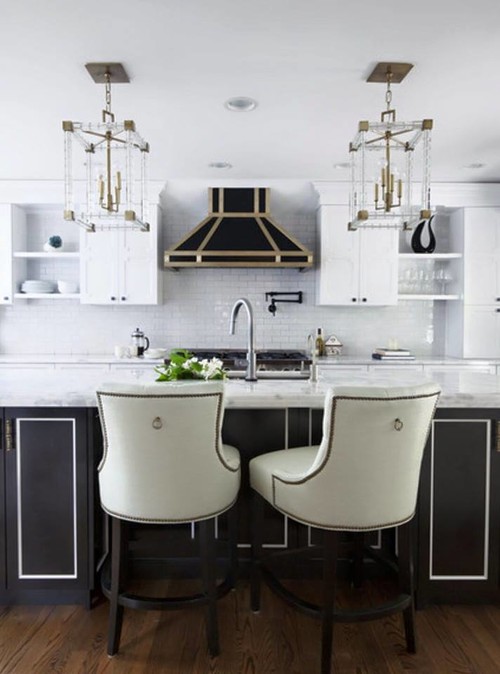 Photo by Paint & Design Group, Inc.
Art Deco often comes with a limited colour palette, but that does not always mean white on white. You may dream of a kitchen in dark green, or a rich red set against deep grey. If you want more than one colour, you will want to balance the number of times that each colour appears and try not to overcrowd the room.

If colour isn't your thing then going monochrome (black and white) is the perfect look for an art deco kitchen. It's still bold and creates a striking contrast. You'll often see a monochromatic theme in art deco interiors.
Rich And Indulgent Textures
Nearly everything in an Art Deco space declares its presence. Natural wood is stained to let the rich whorls of graining shine. Worktops may be polished or pebbled.

Perhaps gold or brass appeals to your contemporary style. Instead of bringing more elements into the room, you limit the material list so that the luxurious countertops and custom cabinetry show their pedigree.
Symmetry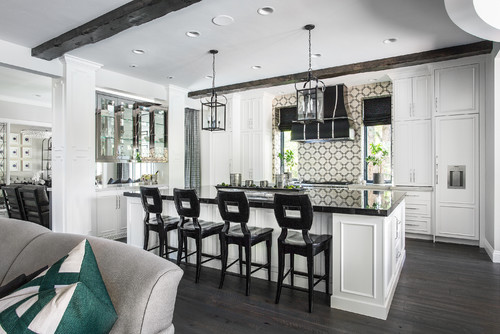 Photo by The Design House Interior Design
Your first impulse when walking into an Art Deco kitchen is that it is unique and fresh. You may think it is due to singular pieces of furnishings. But look again. There may be four glasses, four pots, and four plants.

The shape of the table matches the shape of the island. Stemware, serving pitchers, and platters feature the same colours found in the glass in the mosaic tile. This is not mathematical symmetry, but a balanced presentation of every element. An oval wall mirror may be offset by oval seats. Everything belongs.
Accessories
Due to the precise nature of an Art Deco design, selecting the last small bits is as important as choosing your cabinets. Homes that remain iconic examples of the style from the 30s, 40s, and 50s often seem to be stuck in time.

That is because you can't replace a set of matching teal dishes with a Southwest set from the 90s. Their shape, colourway, and materials simply won't work with the original decor.
Your Art Deco kitchen will be completed all at once, rather than reach an organic conclusion at some point after the contractors leave. You will source every element from your pendant lights to the bar stools while deciding on your refrigerator.

The accessories provide the daily anchor for the style and will maintain its artistic presence until you renovate in a decade or so.
For this reason, you need to be absolutely in love with your Art Deco design before you even begin.
Advantages of an Art Deco Kitchen
The unified appearance of every item in the kitchen. It all matches!
Filled with bold geometric shapes and colours.
Living in a functional piece of art.
Disadvantages of an Art Deco Kitchen
Every detail must be carefully selected to achieve the desired effect.
Can be difficult to replace a broken lighting fixture or serving ware due to the precise nature of the design.
More likely to appear dated as the decor is harder to adjust to match changes in home fashion trends
Difficult to introduce elements of Art Deco without redoing the entire space
You May Also Like:
Hygge Kitchen: How To Design The Perfect Cozy Kitchen
Is Art Deco Out Of Style?
Everything old is new again! Art Deco hit its stride in the 1930s and 1940s but quickly died away in the 50s. Mid-century design slimmed down the brash yet elegant Art Deco elements and opted for a less fussy home design trend.

Current tastes have embraced the mid-century concept for the last few years and are now looking farther back in history for inspiration.

Art Deco is slowly taking centre stage. However, this is one interior design choice that greatly benefits from a professional eye. Visit a local kitchen design centre to see examples of current Art Deco rooms before demolishing your comforting and comfortable home.
Final Thoughts…
There you have it! Everything you need to know about Art Deco when it comes to kitchen design.

A bold, beautiful and detail-oriented style. Art Deco is a strong interior design look and one that requires some careful thought and planning to pull off successfully.

So, will you go Art Deco with your new kitchen design project?
DISCOVER MORE
Michael is a kitchen designer from the UK. He's been designing and project managing new kitchen installations for over 10 years. Before that, he was an electrician and part of a team that fitted kitchens. He created Kitchinsider in early 2019 to help give people advice when it comes to getting a new kitchen.